WeAction of UNICEF posted at Facebook regarding the donation made by The Cloud honoring RAIN's 11th anniversary of his debut. In that posting they mentioned the 2006 Cambodian well project. This is a translation of the news article regarding RAIN's charitable activities in Cambodia.
Asian super star, RAIN donates 50 wells to Cambodia areas!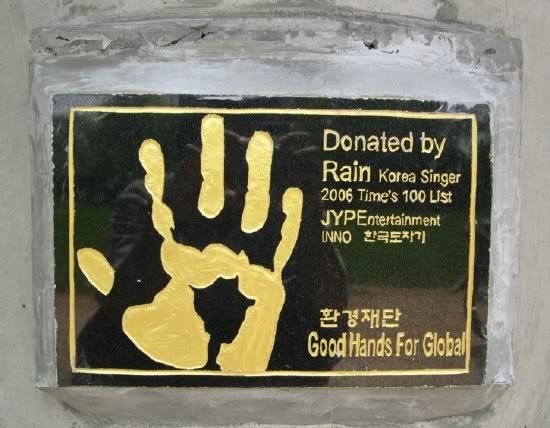 Since December 2005, Rain agreed to cooperate with an environment organization in a project called "Raining in Asia" (translated from Chinese). They planned to solve the water supply problem in numerous drought areas in Asia. He has been consistently supporting the well construction. Now, 50 wells are finally built. The organization will officially announce the completion of well construction August 30th.
"Raining in Asia" is the first project between Rain and the organization. The purpose of this project is to build wells in Cambodia areas, where the water supply is severely polluted by industry wastes. Consequently, diseases spread around and cause a high mortality rate. According to the organization, the project will be able to provide clean water to at least 60,000 residents in Cambodia.
In the meantime, Rain again worked together with the organization in another project, which targets to build playgrounds and fun parks for the children from the lower-class of the society.
In order to collect funds for this project, the organization is going to sell umbrellas with Rain's image, which was specially designed for his "Rainy Day" concerts. All the funds obtained from the selling of "Rainy Day" umbrellas will be used in playground construction for the poor children. Once the construction is completed, Rain's handprint will be carved on it.
Source: STARNEWS
Translated by liusu33@cloudchina (Kor to Chi)
Up by natlau@rainhk.com
Translated by jjbug@MJJH/ rain-malaysia.com
Credit : nana555@Bi's Kingdom (
www.popcornfor2.com
)
Tweaked by Bi Arashi
Indonesian Translation by RLC
WeAction UNICEF menulis tentang sumbangan yang dibuat oleh The Cloud untuk menghormati RAIN pada ulang tahun ke-11 debutnya. Dalam artikel mereka menyinggung tentang proyek sumur untuk Kamboja di tahun 2006. Berikut adalah terjemahan dari berita tentang kegiatan amal yang dilakukan oleh RAIN di Kamboja
Super star Asia RAIN menyumbangkan 50 buah sumur untuk Kamboja!
Sejak bulan Desember 2005, RAIN setuju untuk bekerjasama dengan sebuah organisasi lingkungan hidup dalam sebuah proyek yang diberi nama "Raining in Asia" [Hujan di Asia] (diterjemahkan dari Bahasa China). Mereka berencana untuk memecahkan masalah pasokan air di banyak daerah yang dilanda kekeringan di Asia. Dia dengan konsisten telah mendukung pembangunan sumur tersebut. Sekarang, 50 sumur telah selesai dibangun. Organisasi ini akan mengumumkan penyelesaian konstruksi sumur secara resmi pada tanggal 30 Agustus.
"Raining in Asia" adalah proyek pertama antara RAIN dan organisasi tersebut. Tujuan dari proyek ini adalah untuk membangun sumur di Kamboja, dimana pasokan air sangat tercemar oleh limbah industri. Akibatnya, banyak penyakit menyebar dimana-mana dan menyebabkan tingginya angka kematian. Menurut organisasi tersebut, proyek ini akan dapat menyediakan air bersih untuk setidaknya 60,000 warga di Kamboja.
Sementara itu, RAIN kembali bekerja sama dengan organisasi terebut dalam proyek lain, yang menargetkan untuk membangun beberapa taman bermain seperti Dufan bagi anak-anak dari golongan masyarakat yang kurang mampu.
Dalam rangka mengumpulkan dana untuk proyek ini, organisasi tersebut akan menjual payung dengan foto RAIN, yang dirancang khusus untuk konser "Rainy Day" –nya. Semua dana yang diperoleh dari penjualan payung "Rainy Day" akan dipakai untuk pembangunan taman bermain bagi anak-anak miskin. Setelah pembangunan selesai, cetakan tangan RAIN akan diukir disana.
Romanian Translation by Benghi
WeAction of UNICEF a postat pe Facebook cu privire la donatia facuta de The Cloud in onoarea Aniversarii de 11 Ani de la Debutul lui RAIN.In acea postare ei au mentionat proiectul fantanilor Cambodgiene.Aceasta este o traducere a articolului cu privire la activitatile caritabile ale lui RAIN in Cambodgia.
[Articol din 2006] Super Star-ul Asiei RAIN,doneaza 50 de fantani pentru regiuni din Cambodgia!
Din decembrie 2005, RAIN a fost de acord să coopereze cu o organizatie de mediu într-un proiect numit "Raining in Asia" (tradus din limba chineză). Ei au planificat rezolvarea problemei alimentării cu apă în numeroase regiuni de secetă din Asia.El a sprijinit în mod constant constructia fantanilor. Acum, 50 de fântâni sunt construite. Organizatia va anunta oficial finalizarea constructiei fantanilor pe 30 august.
"Raining in Asia" este primul proiect dintre RAIN si organizatie. Scopul acestui proiect este de a construi puturi în zonele din Cambodgia,în care alimentarea cu apă este grav poluată cu deseuri industriale. Prin urmare, bolile răspândite din cauza deseurilor,ridica rata de mortalitate. Potrivit organizatiei, proiectul va fi în măsură să furnizeze apă curată până la cel putin 60.000 de locuitori din Cambodgia.
În acelasi timp,RAIN a lucrat împreună cu organizatia într-un alt proiect, obiectivele fiind construirea locurilor de joacă si parcuri de distractie pentru copiii din clasa de jos a societătii.
În scopul de a colecta fonduri pentru acest proiect, organizatia va vinde umbrele cu imaginea lui Rain, care au fost special concepute pentru concertele "Rainy Day".Toate fondurile obtinute din vânzarea de umbrele "Rainy Day" vor fi utilizate în constructiile locurilor de joaca pentru copii săraci. Odată cu finalizarea constructiei, amprenta lui RAIN va fi sculptata pe ea.
Spanish Translation by Benghi
WeAction of UNICEF publicado en Facebook acerca de la donación de The Cloud en la honor del Aniversario a 11 Años después de la Aparición de RAIN.Ellos mencionaron en ese comentario el proyecto de pozos Camboyanos.Esta es una traducción de los actividades de caridad de RAIN en Camboya.
Asian super estrella RAIN dona 50 pozos a las zonas de Camboya!
Desde diciembre de 2005,RAIN accedió a cooperar con una organización ambiental en un proyecto llamado "Raining in Asia" (traducido del chino). Planearon para resolver el problema de suministro de agua en numerosas zonas de sequía en Asia. Él ha apoyado sistemáticamente la construcción de pozos. Ahora, 50 pozos se construyeron finalmente. La organización dará a conocer oficialmente la terminación de la construcción en 30 de agosto.
"Raining in Asia" es el primer proyecto entre RAIN y la organización. El propósito de este proyecto es la construcción de pozos en las zonas de Camboya, donde el suministro de agua está muy contaminada por los desechos de la industria. Por lo tanto, las enfermedades se propagan alrededor y causan alta mortalidad. Según la organización, el proyecto será capaz de proporcionar agua potable a por lo menos 60.000 residentes en Camboya.
Mientras tanto,RAIN volvió a trabajar junto con la organización en otro proyecto, que se enfoca en la construcción de parques infantiles y parques de diversión para los niños de la clase baja de la sociedad.
Con el fin de recaudar fondos para este proyecto, la organización va a vender paraguas con la imagen de Rain, que fue diseñado especialmente para sus "Rainy Day" conciertos. Todos los fondos obtenidos de la venta de las "Rainy Day" paraguas,se utilizarán en la construcción de juegos para los niños pobres. Una vez que la construcción se ha completado, huella de la mano de RAIN se puede tallar en élla.